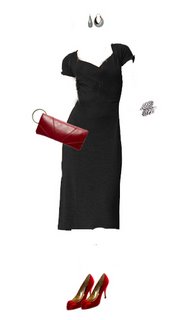 What to Wear: Holiday Parties
For some reason, the holiday season always makes me think about party scenes from Woody Allen movies. I expect that there will be a lot of smart people all talking at once in a cozy apartment with a dash of New York sophistication! And while this isn't something that Diane Keaton would wear, it is an outfit that can be adapted to several different holiday parties:
Dress – Comfortable and versatile in black wool.
Earrings – These bold earrings give the basic dress a festive air.
Bracelet – I love this antique mexican silver bracelet in a fern pattern.
Purse – A red clutch from Target has a bangle for easy cocktail party carrying.
Shoes – Red satin shoes with a peep toe and a bow are so fun!
You can easily change this outfit for a different event by adding a sweater, switching the jewelry or selecting different shoes. Imagine it for a casual dinner party with a pair of boots and a cozy cardigan! Or for something a bit more formal with some sparkles.