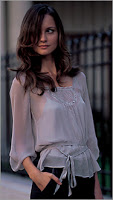 What to Wear: Grey Silk Blouse?
I love shopping online but it is sometimes hard to make that final call between "cute" and "what-was-I-thinking" solely based on a two inch photograph.
Last week I put in a La Redoute order that included a cropped cardigan, a pine green pullover sweater and some other basics. I also tossed in a grey silk crepe blouse with the order, but now I'm not sure how it will come out. I usually give La Redoute the benefit of the doubt for most questionable items and it has turned out well in several cases. What do you think?