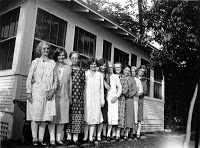 The Ladies Activity Club is Growing!
When I first moved to San Francisco in August 2005, I convinced my sister to help me start a club as a way to meet new people. We called it the "Ladies Activity Club" and our first party had six attendees. Each month, a new person would host a party for the others involving some sort of fun activity or craft.
Since then, the LAC has grown to almost 40 members and we've hosted 19 parties. Cupcake decorating, modern art, poker lessons, bowling, wine tasting, gingerbread houses, pasta making…each party has been so fun. The March party to learn pen and ink drawing is tonight. Starting this club is honestly one of my proudest achievements!
Today, I found that a new chapter of the Ladies Activity Club has started in Utah. I talked to Ashlynn about starting a club a while ago but didn't realize that she actually had. You can read about the St. George Ladies Activity Club online!
If you are interested in starting a Ladies Activity Club in your area, I'd be glad to give you some pointers. Send me an email. It's not that much work and a whole lot of fun.