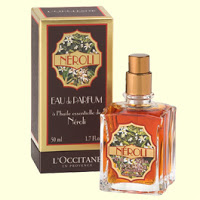 Things I Love Today: Neroli
I'm tired from last night's super fun dinner with Jordan and Paul. My mental "mist" and the actual rain outside have combined to make this one of those perfect cozy early spring days. I have lots of layers on, a big cup of hot coffee in hand and the perfect perfume to match my mood.
Neroli is made from orange blossoms (60 pounds per ounce actually) by L'Occitane. It has a great musky scent that is completely distinct from other perfumes. I bought it when I first moved to San Francisco and it brings back all kinds of good memories whenever I wear it. It's the perfume equivalent of a big cashmere scarf!