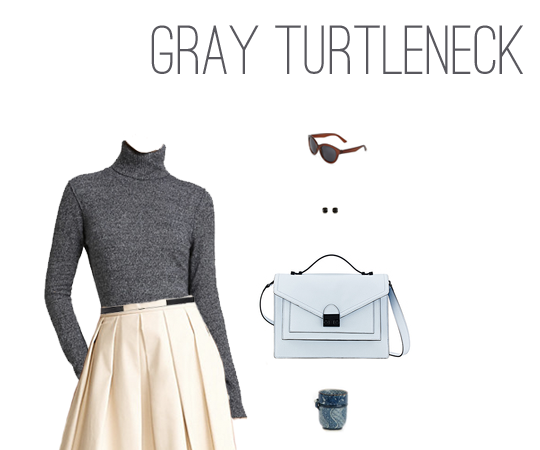 What to Wear: Gray Turtleneck Two Ways
January's greatest gift is the return to normal routines and free time. All this luxurious extra time not having to write Christmas cards or bake cookies! No weekends packed with parties. January is quiet and the perfect month to experiment with your wardrobe.
I just bought a basic gray heather turtleneck on sale at Bloomingdale's last night. It is so soft, I could see wearing it every day with black leggings and boots – but my personal rule for buying the sweater was to wear it with a few interesting outfits. Here is one bold idea, and one realistic: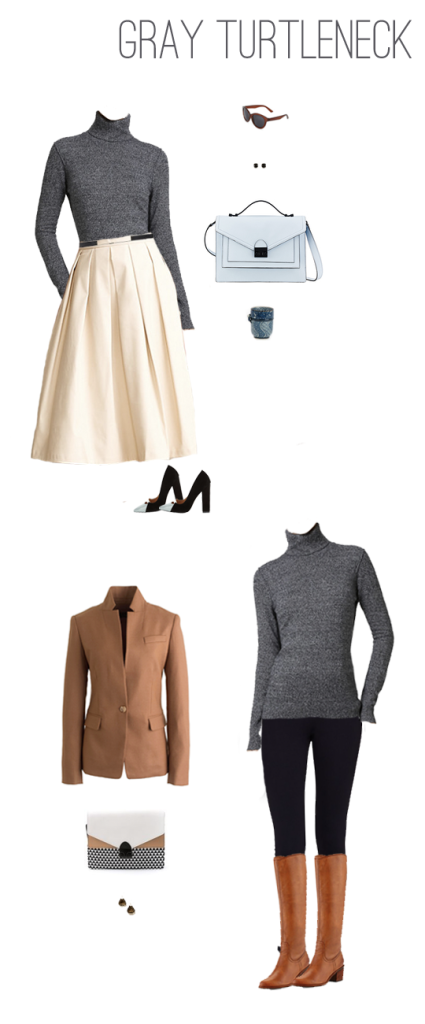 Turtleneck – Basic cashmere Aqua turtleneck on sale for $78, in black and white heather. Bloomingdale's cashmere line is the best I've found – way nicer than J. Crew. The sweaters are so soft, light and don't pill or wear down even after years.
Bold: With a pleather midi skirt – Anthropologie calls it "vegan leather" but we know what they're getting at. This ivory midi pleather skirt looks like it would be so unique and pretty. Pair it with these unique black suede pumps, black belt, sunglasses, black stud earrings, a powder blue purse, a japanese mug and red lipstick
Reality: Leggings and boots – Saddle is my favorite shade of leather – it looks so polished with black and camel – these flat boots are from Sam Edelman. Black leggings from Club Monaco, a camel blazer from J.Crew, an adorable tan and white bag and drop earrings.