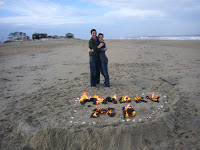 Very Big, Exciting, Tremendous News!
I'm back! I am a jet-lagged zombie and swamped with emails. So, the big vacation wrap up will have to come later. But, I do have the energy to share with you the super exciting news: I am engaged!
It happened when we were staying at the beach house with my mom, dad, sister and her boyfriend. Rob rushed in and told me that there were sea turtles hatching on the beach! I grabbed my coat and ran after him. Instead of turtles, he spelled out "Marry Me" in a bonfire and presented me with gorgeous diamond ring. I was completely surprised! My family popped out from behind the sand dune once I said "yes!"
The whole thing couldn't have been more perfect! I've spent the last three days staring at my left hand and floating on cloud nine!