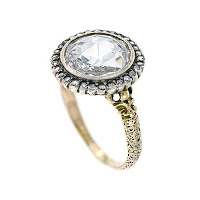 A Little Bit More About my Ring
I'm so glad that you all like the ring that Rob picked out! I love it, but I am sometimes known for having "funny" old fashioned taste.
Rob really did an amazing job finding this ring. It is an estate ring, probably Edwardian, with a 2.5 carat rose cut diamond. Rose cut diamonds stopped being produced around 1900, but the cut gives it a low profile from the side that I love. The diamond has a silver backing and the decorated gold underside is one of my favorite features. You can see more details here.
PS: Many, many thanks to all the readers who sent in shopping challenges while I was on vacation. I'll start working on outfit suggestions for you tonight! You rock!