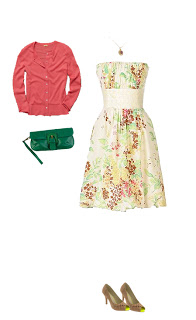 Allison L. wrote in with the first of six shopping challenges I received last week. Hooray for reader emails! Here's her request:
I'd love to see a "What to Wear: First Date" post. I think the perfect date outfit is a balance between sexy, confident and comfortable. The trick is to make it all look effortless! I'd love to see what you can come up with.
I haven't been on a first date in about 5 years and 7 months, so I'm not much of an expert on the current dating scene. But I did go on my share of first dates back in the day. In my opinion, the important thing is really to just dress in something that matches your personality and fits with what you're going to be doing on your date. This is one good option:
Dress – A pretty floral dress is great for going to dinner, catching a play or visiting an art gallery. This is a little pricey, but it can get you through wedding season too.
Sweater – A flattering color and a little extra coverage. You could wear this with a pretty camisole and jeans for something more casual.
Clutch – Wristlet leaves you ready for hand holding!
Shoes – Tan pumps elongate your legs, peep-toe shoes off a flirty pedicure and the low heel is comfortable.
Necklace – Wear a favorite statement piece that has a good story. Helpful for emergency conversation topics.