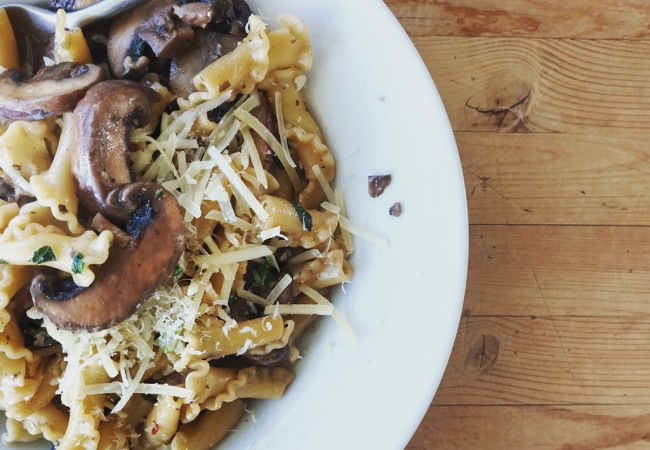 Mushroom Campanelle with Oregano and Lime
It's finally cooling off a bit here in California. On Monday, we had our biggest rainstorm in years. The stormy day made me so appreciative to be working from home, and craving a carb-heavy lunch in a bad way. This mushroom pasta is a recipe I've been making and adapting for years. Mushrooms are meaty and high in vitamin D, ideal for darker fall days. Curly campanelle noodles are a great match for the peppery sauce, brightened with lemon or lime juice.
Mushroom Campanelle with Oregano and Lime
Four servings, perfect for leftovers
Half a box of campanelle pasta
3 cups of thick-cut brown mushrooms
3 cloves of garlic, minced
1/4 cup olive oil
1/4 cup white wine
Juice from 1/2 lime
1 tablespoon of chopped green onion
1 tablespoon of chopped fresh oregano
Optional: tablespoon of cream cheese
Red chili flakes, salt & pepper to taste
Shredded parmesan
Set your water to boil for the noodles. In a saucepan, cook the mushrooms in olive oil and garlic over low heat. When they start to get soft, add the white wine and lemon juice. Turn off the heat while the noodles boil for 10 minutes. Strain when the pasta is al dente. Add to the campanelle to the mushroom mix pan with the fresh herbs, cream cheese and spices and turn the heat to high. Stir, taste and add more seasoning if needed – I like mine with a lot of pepper. Serve topped with parmesan cheese.