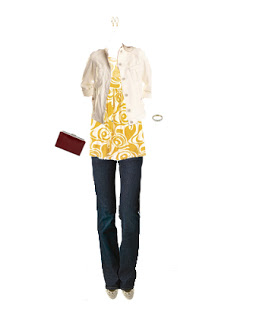 What to Wear: Date in Ohio
Today's shopping challenge is a fun one. Kim wrote in with a first date request:
I saw you did a "first date" outfit last month. However, I was wondering if you could create one a little more casual. I live in Ohio and it's more casual in terms of first dates. I was thinking either to the movies, for coffee, or to a bar for drinks – something along those lines. I was wondering if you could create an outfit centering around jeans, but also looking really cute!
Sure thing Kim! Here's my outfit suggestion for your casual date:
Shirt – I love the color, pattern and cut of this shirt from Alloy. And it's only $24.
Jacket – This white leather jacket is from the Gap and I think also might be attractive. Let me know if you have a chance to try it on in person.
Jeans – Your cutest, most flattering pair.
Flats – I've used these cute white cutout flats for a couple outfits. I really need to buy these for myself!
Clutch – In red from Target.
Earrings – Simple gold hoops with yellow stones from Anthropologie.
Bracelet – Under $5 from Forever 21.