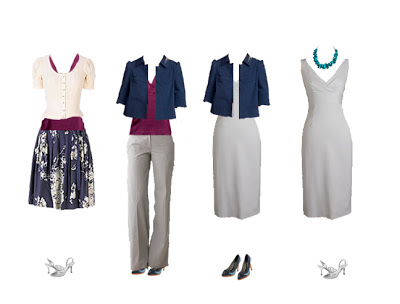 Chrissy wrote in recently with a very complicated request. I reads almost like one of those word problems where Ben can't sit next to Mary and a train leaves Denver at 3:00:
Both of my sisters are getting married this summer. One is going to have a fairly informal affair followed by a lunch with about 50 relatives and in the evening a party for younger friends only. My other sister is going to have a "shotgun wedding" at the town hall in July and a more formal ceremony in the fall. So among the two of them they are forcing me to have four different outfits…

I am 30 years-old, petite (5'2), I have blue eyes, fair skin, long light brown hair and I wear a size 4. Blue in all its shades is my favorite color.

I will see people I haven't seen in ages and I'd love to look chic. I don't want to spend a lot of money but I realize I will probably need to spend between $700 and a $1,000.
I think mix and match pieces are the key to making all these events work without going completely broke. These combinations are a little extreme, but you get the idea:
1. Informal Wedding Outfit
Sweater – A delicate ivory layering piece for $88.
Top – A bright colored knit for $19.
Skirt – I saw someone in my office building wearing almost this exact outfit and she looked fantastic. Also $88.
Shoes – Chrissy already has these shoes.
2. Evening Party Outfit
Top – Same bright knit top from the day.
Jacket – Cropped French Connection jacket for $168.
Pants – Seersucker trousers for $110.
Shoes – I have a feeling that shoe-loving Chrissy will love these retro LAMB pumps for $274.
3. Courthouse Wedding Outfit
Jacket – You just have to do the whole "1940's" courthouse wedding look for this event. It is just too perfect.
Dress – Grey (not white!) twill sheath dress for $188.
Shoes – The vintage style is a perfect compliment.
4. Fall Wedding Outfit
Dress – Same dress but now standing on its own.
Shoes – The party sandals reappear.
Necklace – A bold turquoise piece for $149. Really play up the accessories with this outfit.
Grand total: $996! Of course, Chrissy can adapt these outfits and bargain hunt a bit to bring the price down and the variety up. Whew!