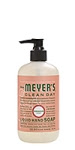 Things I Love Today: Geranium Soap
Our local 800 square foot hardware store never ceases to amaze me. They have everything there! Tourists accustomed to Home Depot should make a mandatory stop at a city hardware store to marvel at the incredible density. It will blow your mind!
The Castro Ace Hardware is run by Transylvanians and is full of hidden gems, including a big display of Mrs. Meyer's Clean Day products back in the 4×5′ garden and cleaning section. I'm obsessed with the geranium scent already.