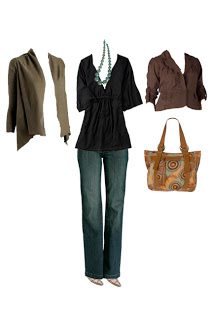 What to Wear: A Little Pregnant
Today's challenge is a tough one for me. Our Anonymous requester has a completely opposite figure than mine, short and curvy to my tall and angular. And she is pregnant, something that I really know nothing about:
I have a fashion problem that I'm having trouble solving. I'm about 3 months pregnant, and none of my regular clothes fit me anymore, but maternity clothes look silly because my belly isn't big enough for them yet. I'm looking for a few pieces (mostly tops and sweaters) that can last me the next month or 6 weeks before I am truly showing big time. I'm a short curvy girl, 5'2″ usually a size 10, and my boobs which used to be D cup are now even bigger. Finally, I hate my upper arms so sleeveless is not an option for me. Do you have any ideas, maybe some blousey flowy tops or something?
Luckily for Anon, the current styles are a great match with a growing belly. Loose tunics, empire waists, cropped jackets, flat shoes…it's a silhouette perfect for a stylish soon to be mom. Here are some ideas:
Sweater – A drape front cardigan is very chic and will work for your whole pregnancy.
Kimono Top – There are so many inexpensive kimono and empire waisted tops available that will work for early pregnancy. Old Navy has them in a variety of sizes and prices.
Cropped Jacket – This is an actual maternity piece from Liz Lange for only $13.
Necklace – Accessories are one size fits all.
Jeans – A stylish pair of maternity jeans will be essential. This pair is $84. You can also buy a belly band to convert some of your current favorite pairs.
Purse – A big tote is always handy.
Shoes – Micro-wedges in silver from Hush Puppies for extra comfort.
Congratulations on your pregnancy, Anonymous!