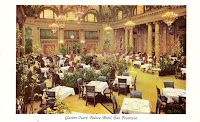 Things I Love Today: Lunch at the Palace
Sara is visiting California this week and we're meeting today for lunch. For special lunches, it doesn't get much better than table at the Palace Hotel's Garden Court restaurant.
The setting is incredible; very old San Francisco glamor. I plan on getting the signature dungeness crab salad with green goddess dressing and a glass of rose. Pure bliss!
Update: Photos! This was a great lunch. The couple next to us was celebrating their 25th wedding anniversary and the woman was really proud to be fitting into her lace gunny sax wedding dress. Along with the salads, Sara and I shared a "study of creme brulee."