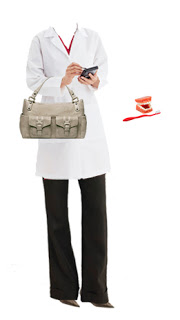 What to Wear: Fantastic Bag
Jane is finishing up dental school and looking to reward herself with a new handbag:
I have a small challenge, I'm looking for an essential piece, not necessarily an entire outfit- although one could always be displayed alongside it for kicks. 🙂 I'm in dental school, but am beyond most of the coursework and am now in a predominantly clinical setting. I have always been in school and I am really excited about buying a new bag to carry daily that does NOT need to accommodate tons of books, computer, etc.

So I am looking for a fabulous bag to carry maybe one spiral notebook and a folder, lunch, water bottle, those kinds of things. We dress professionally at my school, no scrubs, so though it doesn't have to be formal, I don't want something super casual or rugged. I am looking for a shoulder bag, probably, as messenger bag straps just divide and separate me a little too much on top. I can spend around $200 and I love leather, in any color.
If you love leather, you'll love Kenneth Cole bags. And they are perfect for professional life and carrying around a few larger things. Here's my recommendation:
Bag – Kenneth Cole Streamline satchel in grey. It's a little more than the budget at $268 but they often go on sale.
Trousers – Basic brown pants from J. Crew would be professional and versatile. Although, in all honesty, I only buy pants from Club Monaco these days.
Shoes – Bronze kitten heels for $60.
Jane is going to be one well-dressed dentist!