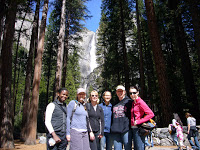 Weekend Round-Up: Yosemite
What a wonderful weekend! Rob and I drove out to Yosemite on Friday night. This trip, partly to celebrate Rob's birthday and party to kick off climbing season, has become something of an annual tradition. About 30 of our good friends came this year. We arrived at Upper Pines Campground at 9:30 and sat by the bonfire catching up until about midnight.
After a very leisurely breakfast the next morning, the boys peeled off for some rock climbing. Six of us women formed an ad hoc hiking group and headed to Yosemite Falls. I've never hiked with a group of women only before; I've been missing out. All that "Oprah" mumbo-jumbo about female bonding is actually quite true!
This hike is only 3.4 miles but you go up almost 3,000 feet at the same time. All those switchbacks make for a very good glute workout! At the top, you have a spectacular view of Half Dome and upper Yosemite Falls.
We hiked back down, which is almost harder than going up, and made it back to the valley floor at 3:00. Sore feet and knees got a dip in the ice cold river. I proposed an "Après-hike" snack at the Ahwahnee Hotel. In my opinion, an après party is the best part of any strenuous outdoor activity! Our new group of friends sat in the warm sun with iced tea and an incredible antipasto plate. It was perfection!

Back to the campsite to rejoin the climbers at 5:30. Another fun night around a big campfire with lots of food, drinks and s'mores. Rob and I drove home after breakfast on Sunday morning, smelling very much like campfire. Back in the foggy city at 5:00, we scrubbed the smoke out of our hair. Rob fielded birthday phone calls from family and we feasted on an order of free-delivery sushi.