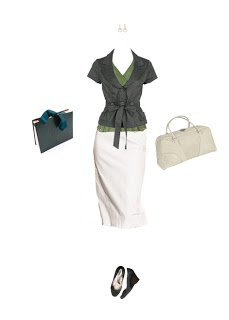 What to Wear: Business Meeting
It can be tough to find the right thing to wear for in today's casual offices. I'm pretty much always overdressed since my office largely wears jeans as a uniform. Katie has the same challenges:
I have to give a presentation at my Sales Meeting in two weeks. I work for a sporting goods company so the atmosphere is relaxed, even in big meetings, but I still want to be professional. I am young and I LOOK really young so I think sometimes my all middle aged and male salesforce can feel like I'm a daughter type. So I'd look to look like an adult, but an adult who is still the fun cool Marketing Manager.

The last little wrinkle is that I work for a female focused brand and in a very male dominated industry so I'd like to be feminine without being inappropriately sexy. I've been doing these presentation for five years and I feel like I've only nailed the look in the winter when you simply have more layers to work with!
This is such a fun challenge because it blends together so many contrasting themes: feminine, professional, young and athletic. I think I found the perfect thing for Katie:
Shirt – A pretty green v-neck tank is structured enough to wear without the jacket.
Jacket – A young, fun version of a traditional board room blazer.
Skirt – I love the length of this traditional white pencil skirt from Bloomingdales on sale. So classic and flattering!
Wedges – Always wear heels when you are presenting, it adds authority. These wedges are on sale.
Bag – Sport as fashion is big these days thanks to stella at Adidas, Diesel and Puma. This bag is made of pearlized PU and suede.
Portfolio – Alligator leather accordion file in dark green.
Earrings – Pearl drops.
And don't forget your lipstick! That always helps me look older; in a good way!