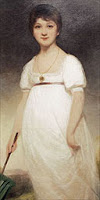 What Would Jane Austen Do?
A reader just emailed me to say that she's started a blog and decided to name it "What Would Jane Austen Do?" Isn't that a fabulous name for a blog? Doesn't it just immediately make you smile?
Being a daydreamer, this got me thinking about what Jane Austen would indeed do and how much I would like for her to be on my "cosmic board of directors" if there were such a thing. I'd also invite Katherine Hepburn, Lucy Honeychurch, Diane Keaton, Eleanor Roosevelt, Audrey Hepburn, Karen Blixen, Emily Post and Coco Chanel to sit on the board. I'm pretty sure they wouldn't get along at all, but it would still be marvelous and the advice would be incredible.
Who would be on you cosmic board of directors? Post your suggestion below.