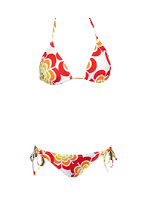 "If anyone young is reading this, go, right this minute, put on a bikini and don't take it off until you're 34" – Nora Ephron
I love that quote! It's easy to feel bad about your body during bikini season. But it's even easier to just ignore any discomfort, throw on a suit and get out there while you can.
It helps to have a cute new suit to show off. This Roxy bikini is adorable! And it also helps to have a bit of sun where you live. Today's high for San Francisco is a balmy 58 degrees!