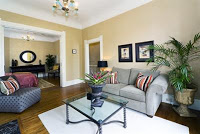 On the Crushing Nature of San Francisco Real Estate
If you have somewhere between $300-$500,000 to spend on an apartment in San Francisco, the real estate market is an oppressive series of tiny, run down and "fixer-upper"/"starter home" listings. Places where you would never want to live, let alone pay the price of a small used car for each month.
But, oh to have $770,000! This seems to be the magical amount where listings start being amazing, gorgeous places. We visited the open house of 27 Henry on Sunday. Not only is this apartment on my favorite street, in my favorite neighborhood, it was also huge and well done. Two full bedrooms and dining room. A fireplace and built in bookcases. A huge modern kitchen with an old wood stove. A real laundry room! A gorgeous little back porch and small, perfect garden. It is the kind of place you could imagine living in forever.
*Sigh*