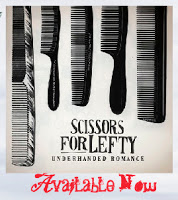 Weekend Round-Up: We're with the Band
It's so cool to be friends with a band! Rob and I have known Peter and the other members of Scissors for Lefty since their first gigs in San Luis Obispo six years ago. Now, they have their first big album out and they're about to go back on tour. We spent the majority of our weekend being "groupies."
On Friday, we met up with Matt and Zach at The Independent at 9:00. Scissors for Lefty was the headliner! The first opening band, Lemon Sun, was really good. The second band was just awful, so we dashed out to grab a few beers at Zach's fifth floor apartment around the corner. SFL went on at 11:30 and had a rocking show! Rob and I walked home once they closed down the bar and crashed into bed at 2:00.
I managed to sleep in until 10 am the next morning, so fantastic! At noon, Rob and I went down to union square for some shopping. We had our favorite tourist lunch: clam chowder bread bowls from Boudin. After a few more errands, we had a quiet dinner at home with the Dixie Chicks documentary Shut Up & Sing.
I managed to slept in again on Sunday morning. At 10:30, Jill and Peter picked us up for a long day with the band. They were playing three shows at Rasputin record stores around the bay area and had invited 10 lucky fans to join them on the bus with free t-shirts and lunch, all part of a contest sponsored by imeem.com. The most die hard fans were two adorable 16-year olds from San Jose, Fawna and Patty.
The first show was by union square in San Francisco; a big hit! We packed up the buses and drove over the bridge to Berkeley for the second show; an even bigger crowd. It took an hour to drive to Campbell for the third and final show; with the biggest crowd yet. It is so strange to see your friends asked for autographs and photos. I can imagine how fun it will be if they really make it big time!
Rob and I made it back home to our messy apartment at 9:45 pm, a little sunburned and definitely tired. I don't think we have the stamina to be full-time groupies!