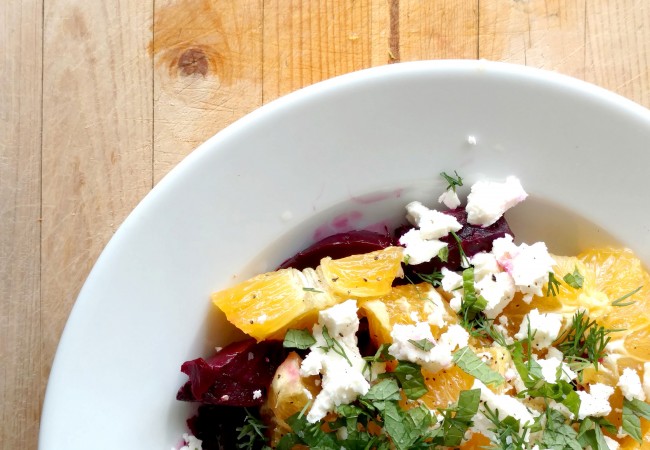 Roasted Beet, Feta and Orange Salad with Herbs
One of the best salads I've had was high up in the hills of Corfu at a restaurant in a mostly abandoned village. Just delicious sweet pieces of ripe orange topped with olive oil, paprika and sea salt. Now that I've found a source for the best oranges at Civic Center Farmer's market here in San Francisco (toward the library, next to the potted plant guy, look for the "Sanger Navel Oranges") I've been incorporating them into simple Greek-style salads.
This version with beets is easy to throw together for lunch at home, with an egg and cheese sandwich on the side for protein. During pregnancy, I highly recommend following it with an authentic Greek-style nap on a sunny couch before getting back to work.
Roasted beet, feta and orange salad
Serves 1 as a meal or 2 as a side
2 egg-sized roast beets, sliced
1 really great orange with the rind cut-off and then sliced
1/2 cup of good quality feta, not too salty
Pinch of chopped fresh mint and dill
Sea salt and fresh ground pepper
If your orange isn't super delicious or you don't have herbs, you may want some oil and vinegar to season the mix. Otherwise, you're ready to eat after layering everything in a bowl.
PS: Martha Stewart has the easiest, cleanest way to prepare beets.