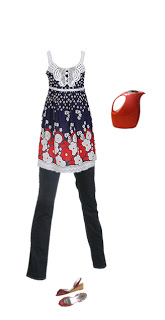 What to Wear: Housewarming Party
There is something about a housewarming party that makes me think about vintage style. I guess it is the influence all those 1970's hostess ensembles! Laura has a fun request for her upcoming housewarming party:
I am having my very first housewarming party next weekend and I don't know what to wear. I want a summery outfit but since I am spending most of my money on booze and food – I don't want to go all out on an outfit. I want something that can take me from day to night (the party starts at 4 and continues at a bar late in the evening).

Oh, and if you have any suggestions for my boyfriend's outfit, that would be great too. We moved in together and it would be cute it we semi matched (but not in a scary way!)
Instead of going completely vintage, I channeled adorable celebrity former-couple Rachel Bilson and Adam Brody to put something casual and cute together for Laura:
Top – A retro patterned tunic is festive for the party but also comfortable enough to wear all night long in New York's balmy weather. This one is from Forever 21, but most stores are full of cute options right now.
Jeans – A skinny dark pair of jeans is great with all kinds of summer clothes.
Shoes – A cork wedge in red leather will be easy on your feet while you make the rounds.
Pitcher – I hope someone gets Laura this modern mod iced tea pitcher as a housewarming gift!
Now for the lucky guy! A printed tee, jeans and these aviator glasses will be totally "Brody" and complimentary with Laura's outfit.