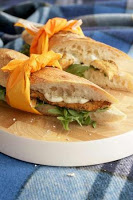 Party Recipe: Tour Finale Menu
New doping scandals haven't broken us of our Tour de France fever just yet (darn you, Vino and Rasmussen). Just like the actual Tour, our Tour party must go on! Time to start thinking about the menu for Sunday's event:
Drinks:Bordeaux & beaujolais
Fat Tire
Lemonade
Appetizers:
Lavender marinated olives
Baked cambozola with toast squares
Main:Big platter of baguette sandwiches (turkey and artichoke, ham and mustard)
Crudite tray
Dessert:Mixed berry crisp with vanilla ice cream
Yum. I love a menu that is basically just all my favorite things thrown together at once!