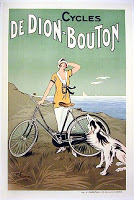 Party Recipe: Tour Finale
French bike race, French food, French wine…sounds like a perfect party to me! Rob and I have invited a handful of friends over on July 29th to celebrate the final stage of the Tour de France. This is the conclusion of three weeks of hard riding and includes a race down the center of Paris.
In addition to the food and race, we're going to have our own contest for the yellow jersey involving trivia questions and challenges. I just need to come up with them first!