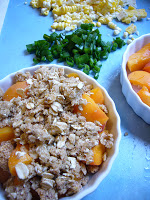 Recipe: Cold Summer Night Dinner
Mmmm! Rob and I had the best dinner last night! It was freezing cold in the city, but it didn't stop us from making the most of all the good summer fruits and veggies. With a quick $10 stop at the produce market, I threw together a warming meal of corn chowder followed by apricot crisp. Here are the recipes:
Corn Chowder
Crispy fresh corn niblets and green onion make this soup feel like summer. The turkey bacon makes it taste a lot less healthy than it actually is.
1 large shallot
1 strip of turkey bacon, diced
1 baking potato, peeled and cubed
1 cup chopped cauliflower
2 sticks of celery, diced
1 yellow zuchini, diced
1 green onion, diced
2 ears of corn, stripped (I used one white and one yellow)
1 can of chicken broth
1 pint of 1% milk
Olive oil, butter, salt & pepper to taste
Brown the shallots and bacon in a soup pan with a little oil/butter. Add the diced potato and cook until slightly softened. Add cauliflower and brown a bit more. Add chicken broth, milk, celery, zucchini and a handful of the corn. Simmer until veggies are softened, about 10 minutes.
Use an immersion blender to lightly puree the soup in the pan, leaving some chunks. Boil until thick, another 5-10 minutes. Turn off heat and mix in remaining corn and green onion immediately before serving. Serves 2-4.
Apricot Crisp
Extremely simple and fast to make. A cheater's version of apricot pie.
4-6 ripe apricots
1 1/2 cups rolled oats
1/2 cup brown sugar
1 tablespoon of butter
1 tablespoon of white sugar
2 amaretto cookies, crushed (optional)
Heavy dash of cinnamon
Cut the apricots into 4-6 slices each and put into individual rammekins. Make crisp topping by combining the remaining ingredients in a bowl with your hands. Top the apricots with the crisp mixture. Bake at 350 degrees for 15-20 minutes. Allow to cool for 5 minutes before eating. No ice cream needed!