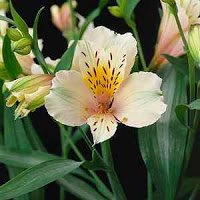 Things I Love Today: Alstroemeria
Having flowers at home is so nice but can be so expensive! Enter our hero: alstroemeria! Alstroemeria (aka: Peruvian Lily) is my favorite flower for everyday arrangements. You can find them in a wide array of colors and I love the "freckles" they display when open.
Buy two bundles (about $3 each at Safeway) with tightly closed buds. You'll have enough for one big arrangement on the dining room table and two small bunches for your bedside and bathroom. If left with enough water, the flowers can last upward of two weeks.