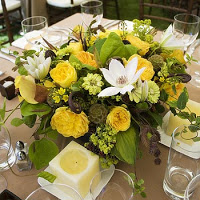 Inspired: Nantucket Wedding
The guest blogger on Frolic this week has me feeling completely inspired…and at the same time really overwhelmed about my wedding.
Yes, I still have a whopping 443 days to plan. But I feel like I have seen so many amazing wedding ideas recently and have no real vision myself. Well, that's not exactly true. I have a venue and probably a caterer. And a dress (although it needs a good seamstress). And a show.
At times like these, it's nice to take a deep breath and a close look at some of the weddings I love. Like this yellow Nantucket wedding and its red and white cousin from Artfool that were featured on Frolic today. They're both so simple and wonderful! I can do this!