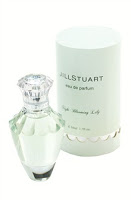 Things I Love Today: Night Blooming Lily
There's always room for new perfume! Jill Stuart's Night Blooming Lily is the latest addition to my collection. It's super feminine and floral!
At first sniff, it smells sort of like the Jessica McClintock perfume (a scent burned into my brain since shopping for a prom dress a looong time ago. You know it too, I bet). But it develops into a much more delicate scent on the skin. Perfect with a crisp white blouse and a pencil skirt!