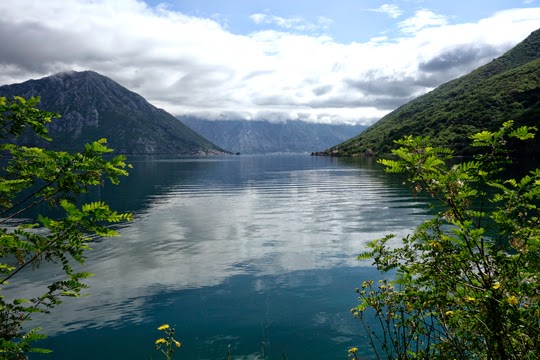 Day Trip from Croatia to the Serene Bay of Kotor in Montenegro
While staying in Molunat, Croatia for the week, we decided to rent a car for the day and cross the border to Montenegro. As usual, we knew virtually nothing about where we were headed! Just had this map that came with our tiny yellow rental car.
The border crossing took about a half-hour and loaded up our passports with extra stamps. You can't really get lost, because there is one road along the coast of the bay…and it is GORGEOUS.
We first stopped in Risan to check out a collection of Roman mosaics. Interesting, but at this point on our trip we have seen more than our fill of ancient ruins. Montenegro is on Euros, while Croatia is on Kunas, so we got to use up the last of our money from Greece.
Next, we pulled off the road to explore the village of Perast, which was crazy pretty – like something out of a movie.
Here's the view in the other direction:
Tour bus groups passed through the town in waves, but behind that you could get a glimpse of daily life for the locals.
Rob and I sat at a cafe overlooking the clear water and had a coffee break. Every 15 minutes, small boats would load up to take tour groups out to see the two island churches in the middle of the bay.
The stormy clouds stayed mostly behind us on the mountain ridge lines.
Rob and I both had meetings in the afternoon and were nervous about getting back over the border in time, so we didn't drive all the way to Kotor – which is supposed to be a lovely seaside city. Our tiny, manual Chevy Spark was fun to drive and hardly used any gas at all.
One last look at the church islands on the road back.
It was getting to be lunch time and we randomly chose a point on the map as a place to stop. The main road through Montenegro isn't terrible, but the roads down to the coast can be scary steep with potholes. The coast of Bijela had more serene bay views.
A handful of locals were eating at a restaurant called Oro di Terra, so we grabbed a table. They didn't have a menu in English, so the waiter helped us pick Serbian dishes for lunch. First: a salad of bell peppers, grilled steak, hazelnuts and dates.
Nice olive bread and fresh-baked sesame breadsticks with the salad.
For our main course: grilled shark with polenta, eggplant, zucchini and an olive oil-tomato relish. Everything was really, really good. We had actually been buying and cooking shark all throughout Greece without knowing what it was!
Lots of boats sailed by outside the restaurant.
Inside, the restaurant had a friendly staff and a fun Flinstones + nightclub decor.
Two more stops on our way back to Croatia. First at an internet cafe in the terraced town of Herceg Novi – which seems to be the more "fancy" city on this side of the bay. We drank fresh orange juice while Rob took his conference calls. And then at the last "Hipermart" before the border to load up on groceries. Hipermarts are the largest category of grocery store I've seen here and still about 1/4 of a San Francisco supermarket.
I am so glad we had time to explore Montenegro – it was unexpectedly beautiful. Next time, we'll have to make it to Kotor!