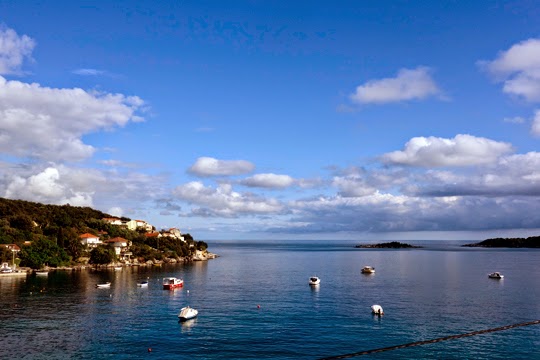 What to See, Eat and Wear for a Week in Molunat, Croatia
Molunat was not what we expected – which can happen when you do zero research while traveling. The fishing village with 150 residents was much smaller that we thought, with only one small cafe and no market or restaurants. It turned out to be just what we needed for a week of work and transitions.
Basics
Getting from Greece to Croatia is much harder than it should be. The distance is only as far as LA to San Francisco. Rob and I looked at every option. In April, it would be about $400 a person to take three ferries through Bari, Italy. Renting a car and driving through Albania isn't allowed by any agencies. When you search for flights, crazy routes costing a minimum of $800 a person come up in the results. There are buses through Albania, but it takes least a few days and a handful of transfers. I was even turned down by boat charters. Miraculously, I read an article about EasyJet flights from Corfu and booked a direct flight to London and then another to Dubrovnik for about $100 per person. Aside from forgetting my laptop at the London airport, it worked perfectly!
We stayed at this airbnb apartment right on the water. Our host, a former soldier, restaurant waiter and fisherman picked us up at the airport for 10 Euros and stopped so we could buy groceries on the way. His wife gave us special Easter cake and candied lemon peel. The apartment was small, but with an amazing view. I had a lot of work to do, made much harder by not having my laptop, and it was nice to watch the boats come and go while taking calls with the New York Times and Wall Street Journal from the apartment. A lot of older men in town, who didn't speak much English but would wave when we walked by. The whole town smells like roses and cheesewood.
See
In a week, you can see everything in Molunat and walk every single road. In the summer, there are a couple restaurants that open up and some boat rentals. At the end of April, we had the whole town practically to ourselves and just one friendly cafe that served drinks and coffee.
1. Walk to the north harbor, where you can climb a lookout tower for a view of the bay and then spy on sea urchins and fish beneath the tiny fishing boats.
2. Follow a rocky coastline trail along the south of the peninsula and picnic on the rocks overlooking the channel between the island and shore. Watch out for not-poisonous, but scarily-large snakes.
3. Walk a dirt road to the south to get a look at the very southern-most point in Croatia and the upended limestone rock coastline.
4. Hike the road around the back of town and see the little terraced farms carved out of the rocky red soil. I spotted lemons, oranges, olives, onions, peppers, lettuce, peas, collard greens, lettuce and cabbage.
5. Take the bus to Gruda, the larger village to the north and inland. Where there are a couple stores, cafes, banks and a gorgeous view of the valley.
6. Relax and swim at the beach next to the "autokamp."
We also took the bus to Dubrovnik and back one day to buy a replacement tablet computer and groceries – it takes an hour and costs $7 each, one way. Another day we rented a car for a day in Montenegro – which was incredibly pretty and I'll post about separately.
Eat
With no restaurants, we cooked for ourselves every meal. The groceries here are a mix of Eastern European, Mediterranean and Spanish influences. Lots of smoked meats and sausages. Polenta, yogurt, olive oil, parsley, cabbage, potatoes, tomatoes, heavy loaves of bread, butter, olive oil, Belgian beer, eggs, gnocchi, pear brandy, hard cheeses, spiced ginger cookies and at least 50 varieties of deviled ham in small tins, which Rob likes but I think is too cat-food-adjacent. When you buy produce in the markets here, take the bags to a counter in the section to have things weighed and tagged before going to the check-out line.
Buy
There is nothing to buy in Molunat, but in Gruda there is a gem of a store. Painter Antonia Ruskovic runs a combination gallery, local craft shop, frame-store and florist. I wanted to buy all of the paintings, ceramics, dyed silk and traditional embroidery for sale there but settled on a hand-painted ornament. Luckily, she has a second store in Dubrovnik if you're not able to make it to Gruda.
Wear
We had a lot of rain while in Molunat, which is supposed to be quite unusual. So, clothes that could dry quickly and not stay damp were nice to have. In between the rain, it was quite humid and hot. Jeans and light t-shirts with either boots or sneakers worked for hiking and avoiding snakes.
The pace of village life in Molunat was the best part. Watching the ships and storms pass by, gossiping about the weather with locals, opening and closing the shutters each day.