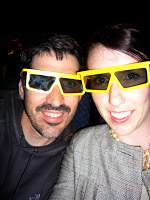 To Do: See Harry Potter in IMAX 3D
Rob and I went to see Harry Potter and the Order of the Phoenix last night at the IMAX theater downtown. The last 30 minutes of the film are in 3D, hence the killer glasses that look sooo flattering on us in the photo.
I'm not a huge fan of Harry Potter (I think I maybe read the first book) but the movie won me over. I really enjoyed the story and some of the sets were amazing (including this office).
Plus, the 3D scenes were pretty cool. Imagine how scary it is to see a 30-foot tall Helena Bonham Carter lunging at you in 3D! If you live near an IMAX theater, it's worth the extra $5 to see this movie on the big screen.