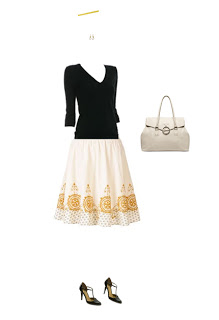 It's so fun to come home from a weekend shopping trip with new pieces of clothing to last you all week. Thanks to sales at Club Monaco and Anthropologie, I'm adding a few new pieces to the mix this week:
Skirt – This isn't the exact skirt I bought but it is similar in volume and colors. I love this kind of silhouette for summer at work.
V-neck – It's nice out, but still summer in San Francisco. This cashmere top from J. Crew keeps me warm enough to go without a coat.
Earrings – Smaller earrings are the best match with a voluminous skirt.
Bag – An approximation of my daily Michael Kors hobo.
Shoes – My walking flats aren't quite as cute as these t-strap pumps.
Ribbon – A yellow ribbon tied over a loose french twist completes the outfit.
Yay for new clothes!