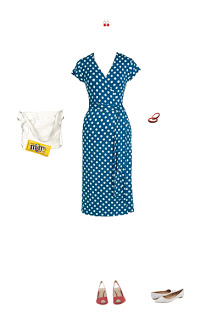 What to Wear: Washington DC
Lela recently wrote in with fun request for an upcoming visit to the Capitol:
I'm going to visit my sister in Washington, D.C. in a couple of weeks (read: July in DC, hot and humid). We are going to a concert together, and then afterwards, going to get a drink with my high school crush/lust object with whom I recently got back in touch after not having seen him in TWELVE YEARS! I'm married now, so I'm not looking, but I would like to look good.

Before our evening activities my sister and I are going to be running around town looking for her wedding dress(!), so I need something that will work all day and all evening, keep me cool, and, er, look hot. Comfortable shoes a huge plus!

I'm 5'10", about a size 8, size 11 shoes, athletic build.
She sent a photo too but asked that I not share it. She's very cute with short dark red hair and a taste for bright clothes (here's a thumbnail of her shirt). I would say she's "kicky;" a great adjective. Here's my recommendation:
Dress – A short sleeved wrap dress works for nearly anything. This fun polka-dot version is on sale from Boden for $64. Very flattering for impressing a former crush and for appearing in photos next to the bride-to-be.
Day shoes – Break in these white skimmers before you leave and they should last you all day.
Night shoes – Switch to red slingback, peeptoe wedges when you meet the ex.
Bag – A white leather tote should fit everything you need for the long day, including peanut m&m's (which I have thought are required for any wedding dress trying on ever since watching When Harry Met Sally).
Earrings – Red quartz drops add a dash of color.
Bracelets – Buy these cinnabar bangles when you visit the Smithsonian gift shop.
Good luck with it all, Lela!