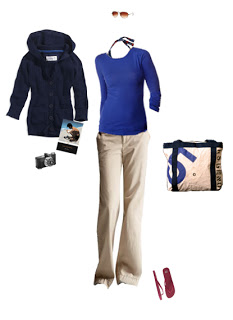 A Mexican vacation sounds like just the thing to combat these rainy coastal winter days. Lisa is lucky to be going to La Paz soon:
My husband and are I heading to La Paz, Mexico in early February for a belated 10 year wedding anniversary. This will be our first trip without kiddos in 3 ½ years. Part of the trip will be spent hanging out in the city of La Paz, the other half will be spent out in kayaks/camping with an outdoor adventure group. I wondered if you have any good resources for purchasing warm weather clothing in the middle of winter and maybe some suggestions for basics to bring with us for traveling and while we are on vacation.
I checked the weather report and it looks like the weather is in the 60's and 70's right now. Hopefully, it will be a little warmer next month. Here is an outfit that can work either way:
Bikini – Bathing suit as bra is a colorful way to switch to vacation mode. I like this blue and red pattern from Old Navy.
Shirt – C&C California makes super comfy tees. I also like to wear a long sleeved tee over my bikini when kayaking to prevent my shoulders and chest from sunburn.
Khakis – Gap does know their khakis. Find a pair that is loose and soft.
Sweater – To wear at night or on colder days.
Flip Flops – Old Navy's new design looks promising.
Sunglasses – Aviators seem ideal for Baja.
Tote Bag – Made of recycled sails for style and sea-cred.
Book – Steinbeck's The Pearl is set in La Paz.
Have fun on your trip!