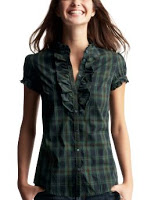 Things I Love Today: Plaid
Fall! I can't wait. I tried on this plaid shirt at Gap last weekend and got a major dose of fall fever. Actually, it's quite adorable in person. Cute with jeans or with a black pencil skirt for work.
Being Gap, they still managed to throw a wrench in it. The shirt is only available online in limited tall and petite sizes and hasn't been discounted yet. But still, fall! cute!