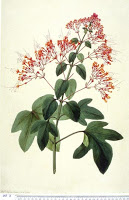 To Do: Botanical Drawings
Calie emailed me with a great idea for the upcoming rainy weekend. On Sunday, we're going to meet at the Conservatory of Flowers to draw. Isn't that rad?
I haven't decided yet if I'll take colored pencils or pastels with me, maybe I'll take both. I can't wait to sit in the warm, glassy rooms and be all artistic.