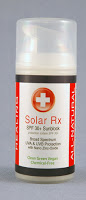 New Sunblock Rating Guide
Oh, the challenges of being extremely pale! I've grown weary of the Lancome Mexoryl "super-sunblock." It's so thick and pore clogging.
A new guide to sunblock from the Environmental Working Group backs up my dissatisfaction. They gave it a 7 on a scale from 0 (good) to 10 (health hazard) for being not very effective and chock full of carcinogens.
According to their rankings, I should switch to Keys Soap vegan, chemical free, broad spectrum, nano-zinc, SPF 30 Solar Rx sunblock. It actually looks pretty good…and it's cheaper than my old sunblock. I'll keep you posted.