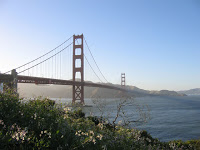 To Do: Visit San Francisco
I've received a couple requests from readers this summer for advice on where to stay and what to see in San Francisco. This is such a great city to visit, it's hard to narrow my recommendations down to a short list. Here are a few picks:
Where to stay
I haven't stayed in many hotels here myself. Usually, I recommend that guests use Priceline to bid on a boutique hotel in the Union Square or Embarcadero zones downtown. During the high season, you can get nice rooms for around $140. It always seems to work out well. I have also read good things about Hotel Boheme in North Beach and my parents enjoyed staying at the Stanyan Park Hotel near Golden Gate Park.
What to see
Forget Fisherman's Wharf and especially Pier 39, it's amateur stuff. Instead, divide your days by regions of the city. You can spend a great day downtown at SFMOMA followed by some shopping and a show. Then spend a day out at Golden Gate Park visiting the Japanese Tea Garden and the de Young or alternately hike Land's End trail and visit the Legion of Honor.
Grab a gourmet picnic at the Ferry Building and take a ferry to Alcatraz or Sausalito for the day if there is some sun. Spend your last day in one local's neighborhood (Castro, Hayes Valley, Japantown, Valencia, Fillmore, Marina, Chinatown, Russian Hill…there are so many good choices) to see how we really live, work, eat and shop.
What to eat
There are far, far too many really wonderful restaurants in this city! I can't claim to be an expert by any means. Foreign Cinema is a prime example of San Francisco cuisine. Museum cafes are always good. Sushi here is awesome. Nearly every local place you choose is going to be really good. Use the internet (yelp and food blogs) to find the best recommendations for which ever area you'll be in that day.
What to pack
For pete's sake, how many times do we need to tell visitors to pack warmly? It's most often overcast here in the summer and it's always cold at night, yet people still show up in shorts and tank tops. Whoever manufactures those SF souvenir fleece jackets must be making an absolute fortune. A perfect San Francisco uniform is a pair of trousers, a t-shirt, sweater, light jacket and comfortable flats/cute puma sneakers.
Enjoy your visits!