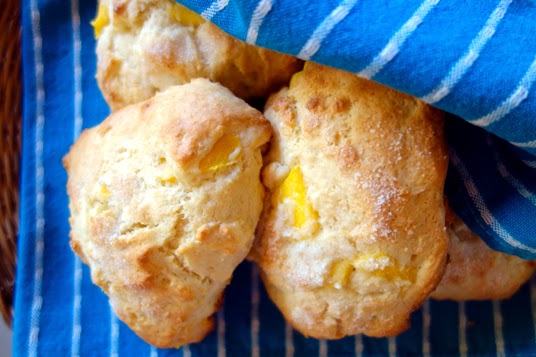 Hawaii: Mango Macadamia Scones with Calamansi and Ginger
Continuing our theme of working through the local Hawaiian produce: I made mango scones for breakfast on Sunday morning.
Given that I'm not much a baker, I started with this easy scone recipe using Bisquick. I used most of a mango to make half a cup of fruit, but next time I would double the amount of mango in the recipe.
A 1/4 cup of unsalted macadamia nuts added crunch and nice roasted nutflavor after the baked. I also added a couple squeezes of calamansi lime – which are the size of gumdrops and have a sour, tangerine flavor – and a teaspoon of fresh minced ginger.
Instead of the glaze, I sprinkled the top with granulated sugar before baking. Delicious fresh out of the oven, especially with some passion fruit jelly!