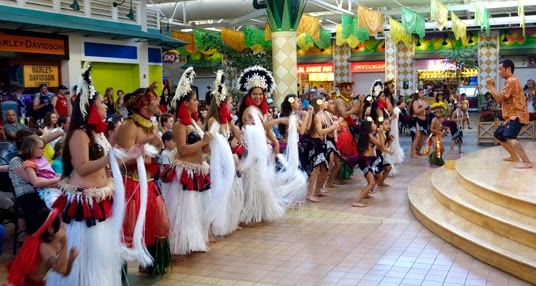 Hawaii: Free Hulu Show in Lahaina
Last time I was in Maui, we went to the very elegant Old Lahaina Luau – complete with tropical drinks, leis, pit-roasted pork and lots of music and dancing. On this trip, Rob and I stumbled in accidentally to the hula show at the Lahaina Cannery Mall when we stopped for sandwiches at the market next door.
Sure, we weren't sipping a Mai Tai with orchids around our necks – but this surprisingly great show was free instead of $110/person. Perfect for our budget Maui trip! The mall puts on a free hula show at 7:00pm on Tuesday and Thursday nights and another at 1:00pm on Saturday and Sunday featuring local kids. The littlest dancers couldn't have been much more than three years old.
The hula show features a live band with a charismatic MC and about 20 different dancers. They changed costumes at least six times through the hour-long performance featuring Hawaiian, Tahitian, Fijian and Samoan music. The locals in the crowd cheered, whistled and called-out along with their favorite traditional songs.
I love good old-fashioned publicity! Big shout-out to the hard working marketing leads at the Lahaina Cannery Mall, who along with the hula shows, also put on ukulele lessons, ice carving competitions, haunted houses, magic shows, flash mobs and Chinese New Year celebrations. These all compete with the mall down the street (Whalers Village) that has it's own activity calendar full of lei making classes, jazz performances, coconut husking demonstrations, mixology lessons and onion eating competitions. How fun for these two malls to think up new ways to outdo each other!
What should they do next? Sushi knife skills? Spear fishing in a kiddie pool? Shave ice eating competitions?