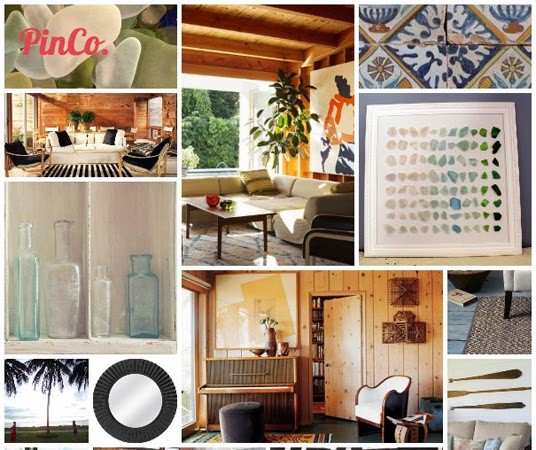 Decorating a Tropical Home with Knotty Pine Paneling
We have LOVED staying at Haley's place in Kihei for these past few weeks. Having a real house – with a cat even – makes a vacation feel extra special. She's so lucky to call Maui home and we're so lucky that she is a generous and kind hostess!
Haley just recently moved in to this new house. The living room has an open floor plan, shared with the kitchen and dining area. The room features a lot of knotty pine paneling in wainscoting and molding – not the easiest thing to design around. The walls came painted different shades of minty green and she's been thinking about how to redecorate the space. I used a rainy morning to daydream how I would design the room: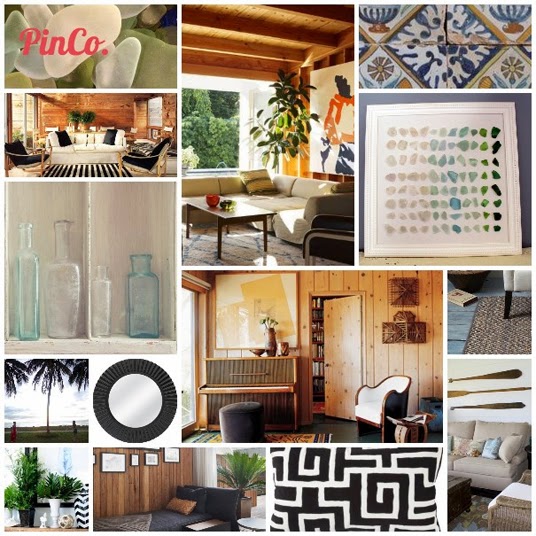 Colors: A light-ish slate gray with a bit of blue could be a great color for the paint. From there, I would use a mix of dark blacks/blues and whites to up the contrast and move the pine paneling into the background. A touch of sea-glass inspired blues and just a dash of coral red.
Tile: Haley is proud of her dutch heritage, so bringing in some dutch tile for the kitchen backsplash would be a fun touch.
White: Maui has pervasive red dust, making it even harder than usual to use light fabrics. Instead, she could look for pieces with white leather or painted wood to bring in some brightness.
Rug. I love the hardiness of indoor/outdoor rugs. When they get sandlogged, you can just scrub them down with a hose in the driveway. This dark blue geometric patterned rug from Target is a nice choice.
Details. Big pieces of art, mirrors and plants would also help to break up the pine paneling. Hanging something interesting like antique canoe paddles up high could bring more attention up to her vaulted ceiling. Bringing in a few Japanese and Chinese elements would be a nice nod to the island's diverse culture.
It was so fun to brainstorm about a fresh coat of paint and just a few small additions to make Haley's "hale" an even more elegant space for entertaining and relaxing in the tropics. This pinboard has all the sources and details.