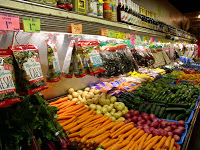 Urban Girl Almanac: Short Week
This week has gone by so fast. Probably because I slept through Tuesday entirely. Still, things were done and lessons were learned:
Being overly excited that you didn't catch your fiance's cold almost always leads to ironically catching said cold.
The smell of a fresh mint bouquet is lovely.
Hooray for brooding love interests.
Still completely obsessed with Coupling.
The worst part of being sick is getting sweaty when you sleep. Yuck!
Congratulations to our newest Ladies Activity Club chapter in Denver, Colorado. We're now in three states!
I'm really frustrated by not having sold my Miata yet.
Squash tacos…who would have thought!?
It can get annoying working in an office full of men and being one of only a few women. I could use a vacation.
My favorite part of Easter Parade is when Judy Garland manages to call a taxi with just a small flick of her wrist and a whisper. Oh, and all the dancing.
Rob organized our closet this week. Isn't he wonderful!
I really need a new pair of jeans. Good thing the Macy's Passport Sale is coming soon.
"A nice simple wedding" is my new mantra.
It looks like the weather is going to be perfect in San Francisco these next few days! Hopefully we'll have a weekend full of kayaking, biking, friends and other fun.