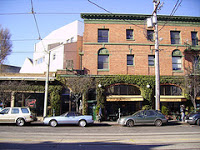 Urban Girl Almanac: Winter, Summer
It's been another very busy week in San Francisco. We went to the movies, hosted a dinner party, played ukulele and got a lot of sleep. Pretty much perfect! Here's what I learned:
Everyone should visit San Francisco!
Go see Live Free or Die Hard, it's fun.
If you love fall, and it feels like fall, why not just pretend it really is fall.
Weather is such a unifying topic.
Skinning chicken makes me feel sort of tough and French-like.
Coq au vin: Easy and delicious. Even better the next day.
It's much easier to walk 1.5 miles to work and back in sneakers than low heels.
Still enjoying Coupling.
Black licorice scotty dogs are a good work snack.
I might have found a buyer for the Miata, keep your fingers crossed.
I can sort of play Clementine and Amazing Grace on the ukulele with Rob.
I kind of like washing dishes (we don't have a dishwasher and Rob usually does them).
Any city dweller should appreciate this version of Aesop's fables from the New Yorker.
Jean and I also love this column on urban botany clubs from the latest issue. Jean, because of the ferns. Me, because I like anything involving "founded in Victorian times."
The New Yorker is so great.
Rob and I are going to the climbing gym and then picking up the apartment tonight. Tomorrow, Nicole is coming into the city early, Rob's friend Seth is coming for a visit and Margaret will be joining us on Sunday. I love a full house!