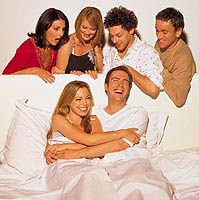 Things I Love Today: Coupling
Admittedly, I'm always a sucker for BBC sitcoms. As Time Goes By reruns are a favorite and I grew up laughing to Faulty Towers hijinks.
My newest obsession is Coupling. It's been on BBC America every night at 10 pm this week. It's a little racy, but not raunchy, and super clever. I even caught Rob laughing out loud at a few of the scenes, a bit hit for someone who usually watches TV while also working on the laptop and practicing ukulele.