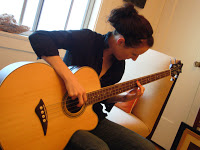 Weekend Round-Up: Committment and Canoes
I'm exhausted from our long, busy weekend. On Friday, we met Matt at the climbing gym for an hour of bouldering. As usual, I went a little nuts and did about 20 climbs. Rob calls my bouldering technique "crazed squirrel."
From there, we drove home and had a jam session with Rob on uke, Matt on guitar and me on bass. After an hour or so, we had a passable rendition of "C C Rider." We all grabbed a late dinner at La Med on Noe. I love all the flavors this mediterranean/middle eastern cafe uses: dill, cinnamon, pomegranate, saffron.
Up early on Saturday morning to pack the car and drive to Sacramento. There is always, always terrible traffic on this drive. We had to be there at 1:30 to photograph a wedding (Rob does a couple weddings a year for friends and family). The whole wedding went by as a lovely blur, I'll do a separate post on it later. The one semi-downside was that I went college with the groom and it turned into a bit of a UOP reunion. Reunions always make me nervous, I was a huge nerd in college, and especially when I'm frazzled from working all night.
We spent Saturday night with our friend Seth in Fair Oaks. After breakfast on Sunday morning, it was time to hit the river. Rob and I loaded into an old canoe and Seth into a river kayak and we paddled five miles down the American River. It was all wonderful and nice…until we got to the class 2 rapids. We managed to paddle about halfway through fine. And then the canoe promptly filled with water and sunk.
Being expertly trained at ditch and retrieval from my boating childhood, I immeditately grabbed both oars, my pants, two jugs of water and the sunblock while Rob grabbed the waterlogged boat. Wearing life jackets made it easier to paddle out of the strong current and on to the beach. Soaking wet and laughing, Seth joined us for a snack while things dried out a bit.
Back in the boat to paddle the rest of the way without event. We loaded up the truck, went back to Seth's to change and had a delicious Mexican lunch at a local taqueria. We drove back home in the traffic at 4:00 and got back to our fair, foggy city right before 7. A quiet evening of unpacking and watching Freedom Writers (I didn't really like it, still cried at all the sad parts.)