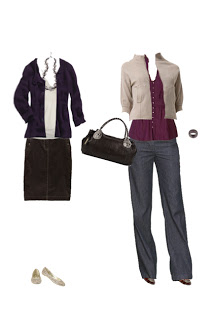 What to Wear: Back-to-School
Emily sent in a what to wear request for a wedding outfit back in April. I recently heard from her again, with a new request and a photo of her wearing pretty much exactly what I'd picked out (I love when that happens). Here's her request:
I'll be starting the new school year in about a month and would like to spruce up my working wardrobe a bit. I'll be teaching third grade and while I don't need business suits, I would like to present a professional front (i.e. no denim jumpers with schoolhouses!!) I don't need a whole wardrobe, perhaps just some mix/match pieces. I'm petite so I don't mind heels, but I'm on my feet all day so something comfortable is in order. Any help would be appreciated!
What a great opportunity for some back-to-school shopping. I've put together some basic pieces along the same color scheme that Emily can mix and match:
Cardigan – From American Eagle in "academic aubergine."
Shirt – A basic ivory henley.
Skirt – A corduroy skirt seems like it would be just right for school. On colder days, wear with opaque tights.
Flats – These gold flats from Nine West seem like they'd be really comfortable.
Necklace – Make good use of the fact that teachers seem to get much more accessory lee-way. Replace an apple/macaroni necklace with this bauble from Forever21.
Jacket – Modern without being intimidating or too weird. Equally cute with long or short sleeves underneath.
Shirt – This type of collar is so flattering and sort of romantic. Makes your neck appear extra long!
Trouser Jeans – Seriously, trouser jeans and wrap dresses are my two favorite things. I love that these are a little dressy but still very machine washable.
Flats – Comfy and stylish in dark leather with a buckle.
Bracelet – Also from Forever21.
Purse – A brand new brown leather and snake print bag from Kenneth Cole is a great splurge. These bags last forever.
It looks like Emily will be teaching her third graders some valuable fashion lessons!