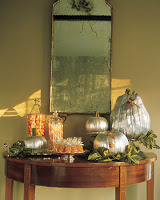 Party Recipe: Halloween Dinner
I'm going to throw a dinner party to celebrate my birthday on Halloween! I've just finished asking around about availability and, to my surprise, a bunch of people are in for the celebration. I'm so excited!
Now, I need to think about what I'm actually going to do for decorations, food, drinks, etc. I want the food to be good, not just spooky or all about pumpkins. And decor? I think I'll turn to that antique halloween party book my mom gave me.
The tough question is: costumes or not? I'm leaning toward not. It's a little awkward to sit at a table in your best getup. But it would be fun to walk around Castro after dinner together. Maybe having everyone come dressed up in black and orange would be a good compromise?