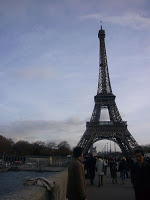 Vacation Round-Up: Eight Days in Paris
I'm feeling fully recovered today after attending the LAC party and getting a great night of sleep at home. Time to start the Paris posts! You can browse through all 263 my photos of Paris online here. Or I've created an abridged version of my favorite 40 available here.
I can't believe how much we managed to jam into such a short time in Paris! Basically, we had breakfast, did one activity, had lunch, another activity, got a snack, walked around, dinner, drinks and then to bed each day. For most of our trip, we stayed at the Saint-Louis Bastille hotel on Boulevard Richard Lenoir. The location was perfect and I loved having breakfast in the "catacombs" downstairs. Here's our itinerary for eight days:
Day 1: Arrive in the morning on Sunday and head out to see Sacre Cour, Montmartre and Parc de Monceau. Finish with drinks near the Arc de Triumph.
Day 2: Shop along the Champs-Elysees, have lunch at La Duree, explore Jardin Tulleries, see the water lilies at Musee L'Orangerie and finish with dinner in Montmartre.
Day 3: A rainy market day. Explore Bastille and Notre Dame (we tried to go to Sainte Chapelle and Musee d'Orsay this day, but they closed early with the strike)
Day 4: Tour the Paris opera and spend a long time at the Musee Rodin.
Day 5: Hotel de Ville, BHV department store, Luxembourg gardens.
Day 6: Visit the Cluny, then walk through the Latin Quarter to get to the Musee d'Orsay.
Day 7: Saturday shopping day! In Bastille boutiques, the big Les Halles mall and near the opera house.
Day 8: Sunday, most things are closed. Walk along the viaduct trail near Gare de Lyon. Go see the bird market on the Ile de la Cite and Sainte Chappelle. Walk along the Seine from Notre Dame to the Eiffle Tower to get one last wide angle view of the city.
Toss in a lot of cafe au laits and crepes in there and you pretty much have my vacation in a nutshell. I'll highlight some of my favorite things in the next few posts!