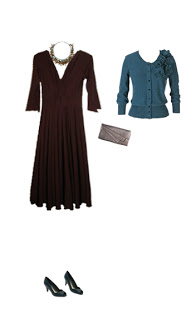 What to Wear: Brown Dress
It's so frustrating to buy something you like, take it home, and then hit a dead end. Julia recently found a dress that fits perfectly but that she can't figure out what to wear with:
I absolutely love your blog. I am a horrible, terrible shopper and reading it has changed the way I think about shopping for clothes. I am a little difficult to fit…a size 10-12 on the bottom and 6-8 on top. In the past, when I would find something that fit and looked good, I bought it, without any regard to how it worked into my wardrobe. Then, these items would sit in my closet and sometimes never even be worn because I couldn't figure out what to wear them with.

Which is the case with this dress. I bought it last year to wear to a party, couldn't figure out what shoes/jewelry etc to wear with it, and it's been sitting in my closet for a whole year (no returns after a week at the store where I purchased it!).

Now, it's party season again and I would love to wear this thing. It's a Dervish dress (made here in Portland–I tried to find a better picture online of a similar dervish dress but couldn't) and works well on my figure because the fabric does not cling at all. But it's boring and needs some serious help, which is why I am emailing you.
I would wear this dress to work all the time with boots, grey tights and some bright accessories. But that's not very creative and brown can serve as a fun base for blues and corals, especially. Here's one way to liven it up:
Dress – From Dervish in Portland.
Cardigan – In a lovely color with flower details on the shoulder. It would be like wearing a corsage all the time!
Shoes – Flirty peep toes in blue.
Necklace – A statement piece with tiger's eye beads.
Clutch – In platinum from Forever21.
This combo is a little feminine and a little vintage, perfect for a house party or book club meeting.